Mladá umelkyňa maľuje slovenské ornamenty!
nov 5, 2019
News
4 Comments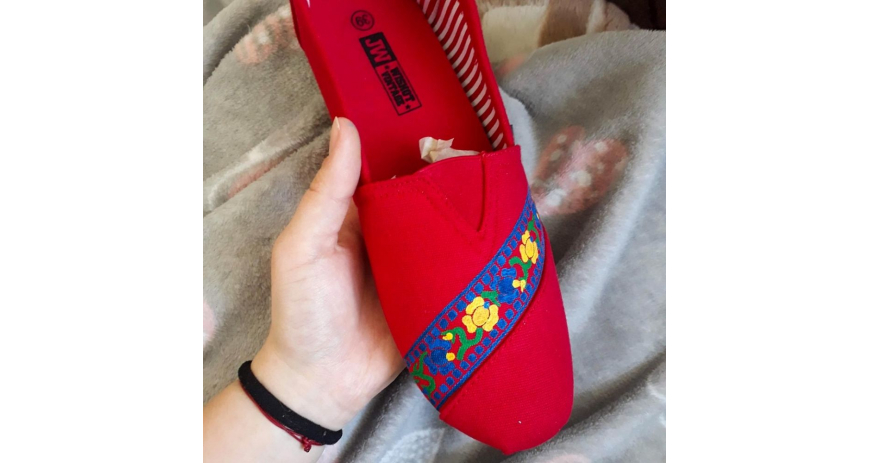 Volá sa Barbora Drugačová, ale všetci ju voláme Baška a hoci má len 18 rokov je umelkyňou s veľkým potenciálom. Študuje na umeleckej škole v Kremnici a venuje sa zlatníctvu. K umeniu inklinovala už od  malička, či už to bolo maľovanie,  kreslenie origami alebo výroba dekorácií a neskôr zlatníctvo. Počas jej štúdia na strednej umeleckej škole sme ju na odporúčanie jej pani riaditeľky oslovili, či nechce skúsiť  maľovať ľudové vzory na textil, najmä na obuv.
A ako ona sama vraví "Hneď ma to zaujalo a už som sa nemohla dočkať ako ľudia budú nosiť topánky, ktoré som ja ručne namaľovala". Spočiatku prekresľovala vzory pôvodnej výtvarníčky Magdalény Gáfrikovej, ktorá pre Slovak Folk Art tvorila počas svojej materskej.
Avšak krásne vynikajúce čisté línie si žiadali viac vzorov a stále viac objednávok.
Pri tvorbe ďalších vzorov sme teda siahli po slovenských ľudových ornamentoch zozbieraných maliarom Štefanom Leonardom Kostelníčkom, či motívoch folklórnych stužiek. Baška pre nás maľuje najmä tenisky a balerínky, nakoľko dopyt po nich je naozaj veľký, ale v jej kolekcii sa nájde aj zopár krásnych folklórnych tričiek, motýlikov, či kravát... A hoci Baškine dni sú už zrátané, nakoľko sa chystá na Vysokú školu výtvarných umení v Bratislave, verím, že čoskoro budeme v našom obchodíku Slovak Folk Art ponúkať okrem tenisiek aj iné jej ďaleko hodnotnejšie diela v podobe šperkov, obrazov, či iných umeleckých artefaktov.